Music at Paxton is a classical chamber music festival held once a year in the Scottish Borders. I inherited the original website from the previous designer and updated it on behalf of the festival. However, the website's shortfalls eventually became clear…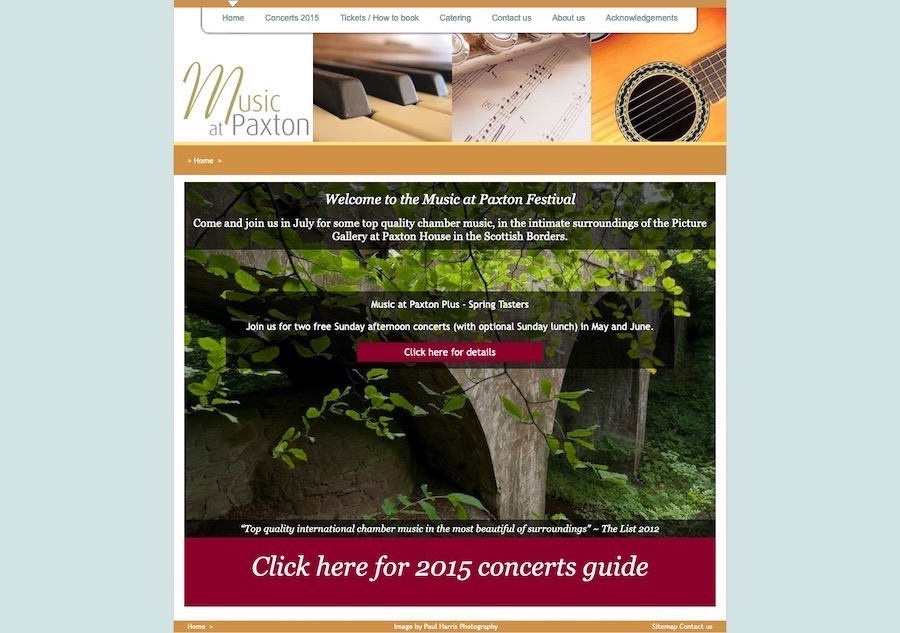 This content-rich website was built in the pre-responsive era and the fixed width coupled with large tracts of necessary text and imagery was problematic on smaller screens. The site did not provide any means of managing content therefore updates needed to be completed by someone with code experience. Following a meeting with the General Manager it was agreed that an entire redesign was necessary.
I collaborated with the General Manager who liaised with board members. We followed feedback loop based iterative design principles which, given the pointed and constructive feedback, cemented the design and core functionality within a few weeks. The construction process began with board members able to access (and comment on) the site from a secure development server as the build progressed.
John has looked after the Music at Paxton website for many years now and totally understands what we need the website to do for us. He is very easy to work with: the combination of his technical expertise, his eye for the details and his friendly manner mean we have no need to look any further for our web design/support.

Elizabeth Macdonald
General Manager.
The new website is built on top of a content management system which can be safely accessed and updated by authorised users. The site is responsive, providing visitors with an optimised user experience regardless of the device they are browsing with. Full media playback is included for pre-recorded talks, podcasts and concerts. Modernised page layouts and typography place emphasis on content, thus promoting the festival, concerts and individual artists in a more aesthetically balanced way.

The new Music at Paxton website launched in 2018 and has received positive feedback from board members and visiting customers alike.
Visit the
Music at Paxton
website.