Association of Scottish Toastmasters
The Association first contacted me in 2009, aware their original (circa 2003) website was starting to feel dated. Following a meeting with founding members, it was decided that a full redesign was required to make the site more useable and attractive to site visitors and Association members. The redeveloped site launched that same year…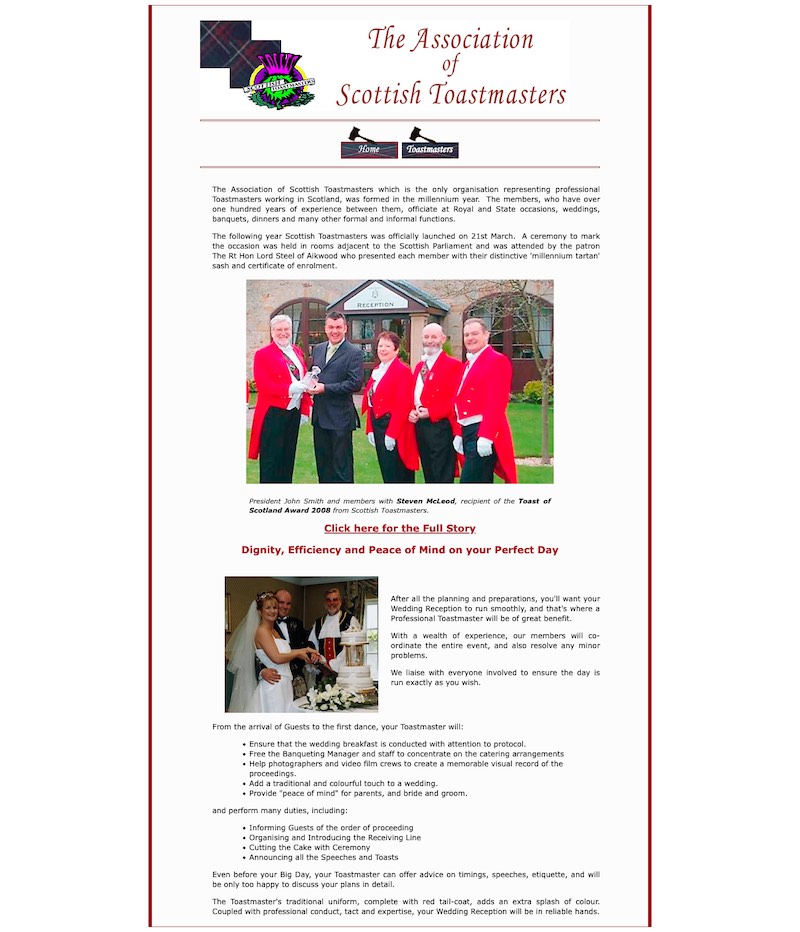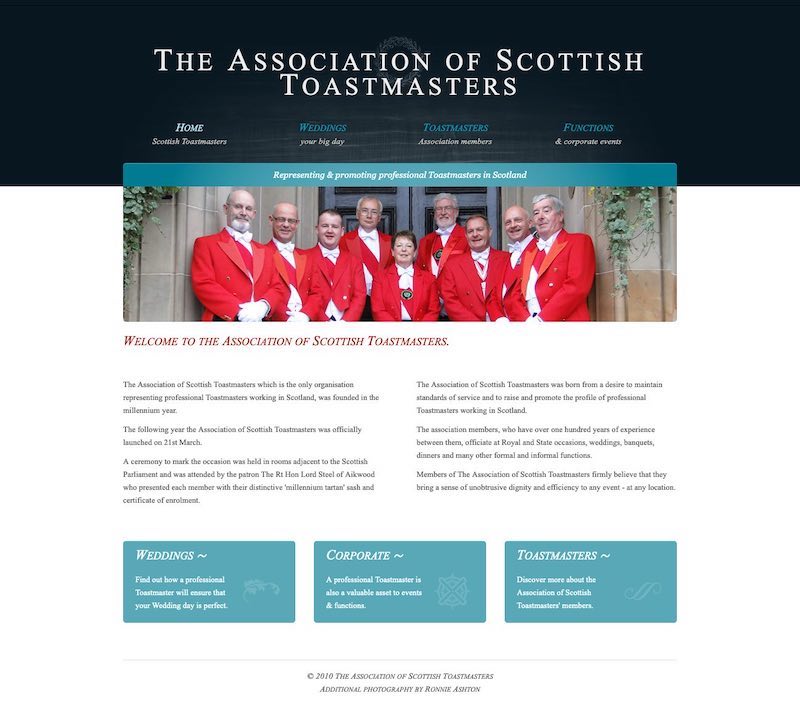 While this was a complete rework coupled with a modernised code-base, the new website remained static. Consequently the infrequent updates required by the Association during this time required someone who was confident with code. As was customary for the time, the site remained fixed-width: the responsive website design evolution/revolution was yet to happen the following year in 2010.
Since the 2009 launch, the Association not only grew in terms of membership, analytics told us the number of visitors viewing the site (albeit the entire web) on small screen devices was growing.
In the years that followed two overriding issues became apparent: increasing membership applications meant more frequent site updates, and visiting the site on a now ubiquitous smartphone was less than optimal due to the rigid nature of fixed-width design.
In my role as President of The Association of Scottish Toastmasters I have worked with John on several occasions in relation to our website. John not only designed our original site, he has been instrumental in its re-design, upgrade and maintenance for a number of years. I have always found John's knowledge, expertise, and efficiency to be first class and has been invaluable to me in my role. His calm, professional and good-natured approach always makes it a pleasure to work with him and I will continue to do so in the future. I would thoroughly recommend John to anyone that wishes to work with him on any aspect of website design.

Richard Gray, President,
The Association of Scottish Toastmasters.
2019: a decade and a second meeting later, I was again tasked with the development of what is now the third iteration of the Association website. This time the redesign was less about aesthetics - which I'm happy to say the Association remain satisfied with - and more about functionality.
With the aforementioned issues in mind, I took the current design and integrated this with a modern responsive framework, taking the opportunity to refine additional elements such as typography and imagery. The website is now accessible and usable on myriad connected devices, from smartphones to smart TVs.
This optimised design framework was combined with WordPress - a dynamic, content management system (or CMS). This permits authorised users to login, add new memberships or edit content and imagery as and when needed - no technical skill required…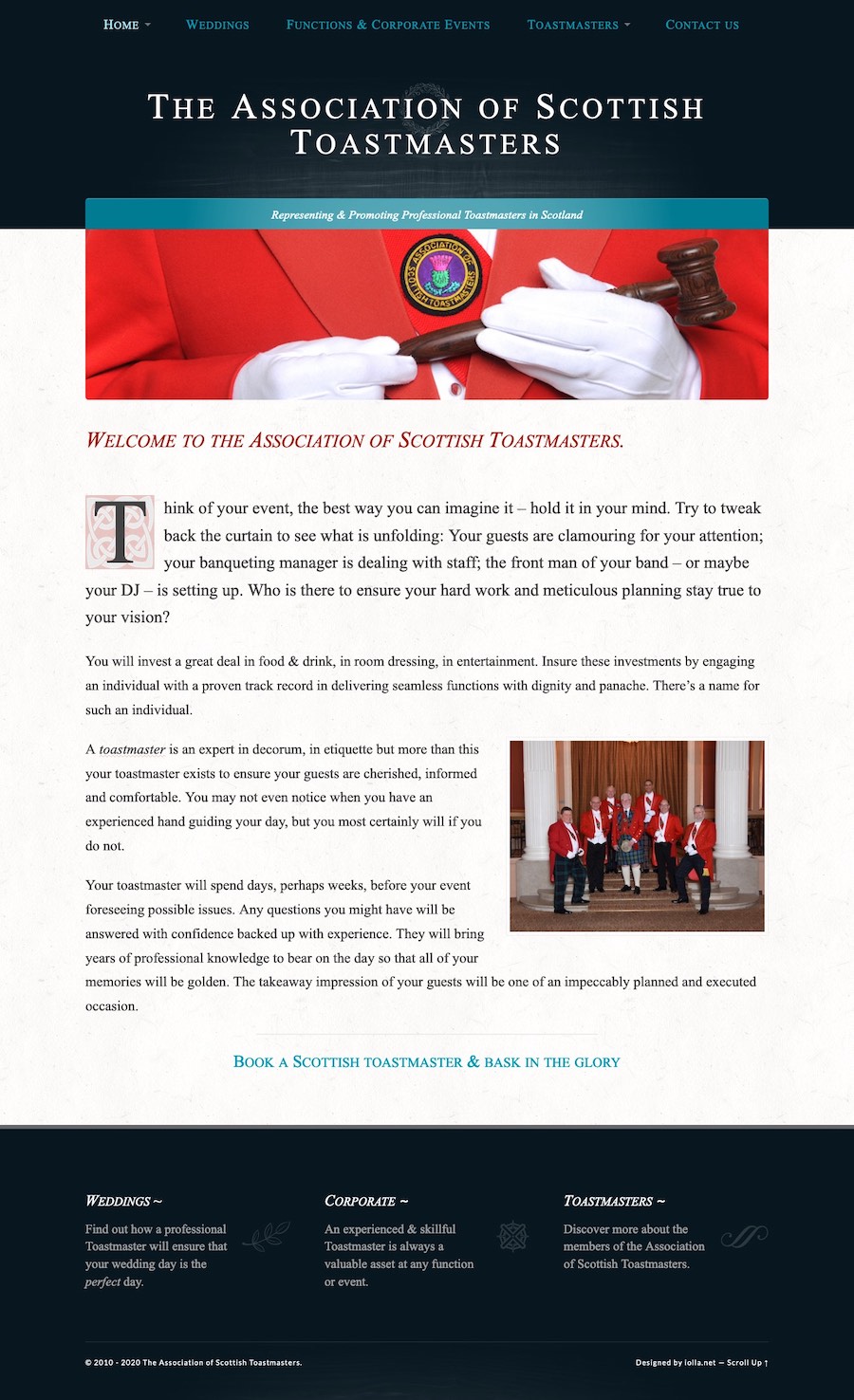 Not only can the board now perform all website administration tasks and updates autonomously, this latest generation website is future-proof and will grow with the Association.
Visit the
Association of Scottish Toastmasters
website.